Watch Kayo Sports on TV Box
In this day and age, it's easier than ever to access what you want to watch on demand thanks to various streaming and online entertainment platforms. More and more people are opting to individual subscriptions rather than television plans to access their favorite sports, shows, and movies.
Kayo Sports has emerged as one of the most popular platforms for streaming sports amongst Aussies. Kayo Sports provides subscribers with access to over 50 sports to stream live or on demand including the AFL, cricket, NBL, NHL, NFL, NBA, plus MANY more . A subscription allows you to stream content from FOX SPORTS, ESPN, and BeIn Sports. The best way to access Kayo Sports is to stream Kayo Sports on Android TV Box. TV Box Australia offers a number of devices that are made for you to easily access your subscription to Kayo Sports.
Kayo Sports TV Box
The Kayo Sports App is available for all Android TV devices with Android 7.0 and higher. This is perfect for the TV Boxes available from TV Box Australia. Using Kayo Sports TV Box is the easiest and most economical way to access your favorite sports.
Keep in mind, Kayo Sports cannot be accessed on the Android TV Box without a Kayo Sports subscription. Kayo Sports offers a 14-day free trial for those who are undecided about the app. Following the 14-day free trial, Kayo Sports offers a basic plan for $25 a month and a premium plan for $35 a month. The basic plan allows you to stream your favorite sports on two devices at one time while the premium plan allows you to stream on three devices at one time. These plans are nice, because they are monthly auto-renewing subscriptions. This means that you are able to cancel your subscription at any time. After signup is complete, simply download the Kayo Sports app, and you will be able to stream your favorite sports immediately on any device. However, we recommend experiencing Kayo on TV Box. For more information about signing up for Kayo Sports, click here.
Streaming Kayo on TV Box is the best way to watch sports, because it is easy to set up and it is very affordable.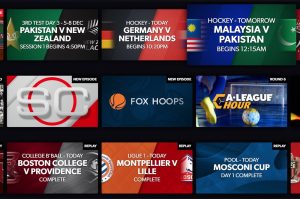 What is Android TV Box?
An Android TV Box is a product offered by TV Box Australia designed to give you easy access to your streaming platforms, including Kayo Sports. The Kayo TV Box relationship is a match made in heaven. The set up is a breeze.
Once you receive your Android TV Box, all you have to do is connect your device to your television, connect your device to Wi-Fi, and search for Kayo Sports in the Play Store. Once you sign on Kayo TV Box, you will have instant access to all of your favorite sports, essentially transforming your regular TV into a smart TV. The Android TV Box comes with some of the most popular streaming apps pre-installed making them already available.
The Android TV Box offered by TV Box Australia give you the feel of using a smart TV by using Android 8.0 and offering full compatibility with ULTRA HD and 4K TVs. It also allows you to access live TV Channels, on-demand movies, tv series, sports, music, music videos, and much more from all around the world all on one device. For more information on the Android TV Box, click here.
Having access to Kayo Sports on Android TV Box is the best way to access your favorite sports broadcasts without breaking the bank.
With the way we access our entertainment now, cable boxes are quickly becoming a thing of the past. Cable providers are constantly losing customers thanks to streaming platforms like Kayo Sports, Netflix, Youtube Premium, ESPN Plus, and many more. The Android TV Box is the present and future of entertainment. There's no longer any need to call cable companies to have a stranger come and install boxes from expensive television service providers. The Android TV Box is designed to be easy to install for just about anyone.
Kayo Sports on TV Box will soon be the Aussies favourite choice for watching sports and on-demand sports films such as 30-for-30, for example. The do-it-yourself set up of the Android TV Box, plus its ease of use, mixed with the affordability of Kayo Sports makes it a no-brainer. TV Box Australia is offering free shipping Australia-Wide on new Android TV Boxes with Air Remotes with delivery in 2-5 days. This means you might just be days away from streaming Kayo Sports on Android TV Box. Click here to learn more.