Best Android TV Box
Traditional cable TV has taken a backseat and multiple internet-based streaming services have surged forward to catch audience attention. Streaming services are convenient and versatile, and most people primarily use them on their laptop, tablet, or mobile devices, which doesn't deliver a truly immersive viewing experience. Many people look for devices that will allow them to use streaming apps on their televisions, and the TV Box Australia is the best solution to enhance the viewing experience.
[finale_countdown_timer campaign_id="1455″ skip_rules= "yes"]
TV Box Australia vs. Other Android TV Boxes
Most TV boxes are made by unregulated manufacturers and have dubious build quality. TV Box Australia offers a host of features that make it stand apart from other options available in the market. Here's why this product is a much better alternative to other options:
It comes with the latest version of Kodi media player with legal apps and no frills. There will be no bloatware and undesirable apps in the system. In comparison, some boxes like the Matricom G-Box don't come with pre-installed Kodi and users have to install the software themselves.
The TV Box is social media-ready so you can run Twitter, Facebook, and other such apps on it.
All video platforms like Netflix, Hulu, Flixster, YouTube, Dailymotion, and Vimeo are supported. Some devices like GEM Box from Emtech don't provide enough support and some apps stream poorly on it.
You can stream live sports directly onto the TV without the need for cable connections.
It has the latest Android Marshmallow version rather than older Android systems.
The box is also Wi-Fi ready and you get access to Australia-based customer support instead of US-based customer support, which is what devices like Skystream Two offer. That can be inconvenient for Australian customers.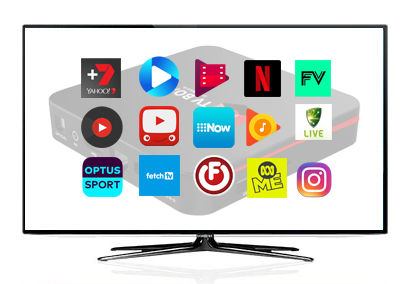 Benefits of TV Box Australia
There are so many different TV boxes available on the market today that it can become extremely difficult to choose the right option. That's why shoppers need to carefully consider the benefits of every product before determining which one is the right choice for them. Here's a look at some of the myriad benefits of TV Box Australia. Understanding what these are will help you make a better-informed decision: 
Ideal for Australian Apps – Some popular Australian apps don't work well or aren't supported by many Android TV boxes available in the market. Those devices are manufactured for the international market and therefore fully support global apps over local ones. The TV Box is a local product that supports both global and local apps, which makes it a much better alternative to other options. 
Custom Made for Australian Viewers – TV Box is designed for Australian viewers and is made in the country, which means it is uniquely tailored to fit the preferences of local viewers. 
Fast Shipping – This product will reach you in a matter of days, no matter where you are located in Australia. The shipping details are provided during the purchase, but most customers receive their product within 2 to 3 working days. You won't have to wait for too long. 
Genuine Product – There are a lot of cheap, poorly produced Kodi TV boxes available on the market. They are imported from other countries and don't perform up to expectations. TV Box Australia is made in the country using efficient design and the best materials.
Most experts, customers, and publications in this industry consider TV Box Australia to be the best Android TV box. It's always good to invest in quality when it comes to such electronic devices. 
Specs of TV Box Australia 
Wi-Fi 802.11acn technology
In-built 8GB secure data storage
Quad-Core 64-bit processor
4K2K UHD playback
Android 7.1.2
Kodi Media player
Buying an Android TV Box – What to Keep In Mind
Buying an Android TV box can be tricky because many manufacturers make extravagant claims like "Fully Loaded Kodi" and sell devices with illegal content. Any box that promises "free movies" and "free TV programs" is probably streaming from dubious and unreliable sources.
Kodi is a media player so it doesn't create or sell content, it is a platform where you can download legal apps like YouTube, Netflix, Amazon Prime, etc., and get content legally. Make sure your box has 5.1 audio pass through, HDMI 2.0, USB 3.0, dual-band Wi-Fi, dynamic refresh rate switching, and H.265 hardware decoding.
Available, get it now online!
Buy online through our secure shopping cart today!
Why Us? – The Best Android Box
Our TV Box Australia offers great connectivity to and support for catch-up TV apps like TenPlay, 9Now, 7Plus, ABC iView, ABC ME, and SBS on Demand so you will never miss a show or event ever again. This is the best Android box for catching up on entertainment and leisure from the comfort of your home.
If you want to know more about our services, don't hesitate to get in touch with us at TV Box Australia. You can reach us through our contact us form or browse through our FAQ page.