Benefits of Android TV Box
Benefits of Android TV Box: The Present and Future of Viewing
The TV viewing experience has changed drastically throughout the years thanks in part to the introduction of revolutionary devices. These devices have improved the way people watch TV and they are excited about what's next. One of the best advancements in TV technology has to be the Android TV box and there's a reason why these boxes are being more common across homes in the land down under.
In essence, a TV box is a small media device that provides an extensive selection of internet-based features for the users. Some of the features it allows include web surfing, video streaming and access to countless apps directly from the TV. It basically turns the humble TV into a multimedia center that caters to all members of the family. Aside from these neat features, here are a few benefits of Android TV box that every user and interested buyer should know.
TV Box Offer – 30% OFF! Sale ends soon!
Cheaper Than Cable Services
Before TV boxes, there were cable services. For the longest time, cable companies have provided families with hours upon hours of entertainment. However, the advent of the internet has made cable services a little bit obsolete as most of the programs they stream on their channels. Another issue with cable services is that although they are cheaper by the month, the long-term expenses will show that TV boxes are the better option.
Cable subscriptions are often paid on a monthly or yearly basis. TV boxes, on the other hand, are one time payments if you choose to pay for everything upfront. TV boxes are more expensive than a single month subscription to a cable service but after a few months, the fees will eventually catch up.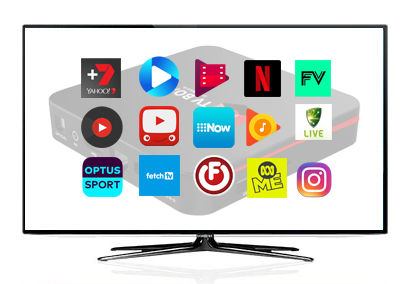 An Android TV box is capable of running all sorts of apps. From games to streaming platforms, and from comics apps to recipe guides. Having useful apps run on the TV is much better than using it through the small screens on smartphones. Since there are countless apps available on the PlayStore, TV box owners will surely find an app that suits their every need.
Exclusive Shows And Movies
TV boxes are able to run numerous streaming apps including Netflix and Hulu. What this means is that TV box owners also have the privilege of gaining access to exclusive programming. One streaming platform that has countless amazing exclusive titles is Netflix. It took the world by storm with programs like Stranger Things, To All The Boys I've Loved Before, Birdbox and more. These programs aren't available legally elsewhere.
Access To The Android Gaming Library
The benefits of Android TV box isn't limited to what programs and exclusive shows a user can have. It's also about other forms of entertainment, including gaming. Android TV boxes are capable of playing the growing library of Android games. Although these titles are not up-to-par with games for the PlayStation 4, Xbox One and Nintendo Switch, they have certainly come a long way.
Back in the days, Android games were basic titles that required only a few taps or swipes to complete. Now, games like Mobile Legends, PUBG, and Fortnite require more complex techniques and planning. These games also look better over time and in a few years from now, they might even rival the quality of their console counterparts. We could only imagine how great it would be to have access to these games in one platform.
Portable Multimedia Device
Android TV boxes are only a few inches long, thick and wide. So long as there is a power outlet an a steady internet connection, it can be used at maximum capacity. This makes the TV box a great companion for trips out of town. They can be used in any hotels and since these devices are small, it isn't a burden to have them around in the luggage.
TV Support
TV boxes powered by Android are will turn TVs into other compatible useful devices. Some of those devices make use of other revolutionary technologies like DLNA, Miracast, Airplay or any other program that's compatible with TVs. A great example of TV support is when TV box owners can use their own smartphone or tablet to control the TV instead of using the remote. Alternatively, they could use the TV to stream whatever it is that is running on their smartphones currently. Be it a game or a downloaded movie, it can be seamlessly streamed into the TV with the help of a TV box.
Regular Updates
TV boxes regularly receive updates from their makers. These neat updates improve performance, removes bugs and even adds in new features from time to time. This is a feature that isn't present with cable services. If a cable subscriber has an issue with his connection, he'll have to call his provider and wait for a company representative to sort things out for them. With TV boxes, bugs and other problems are immediately sorted out once an update is released and installed.
Available, get it now online!
Buy online through our secure shopping cart today!
There are many providers of TV boxes across Australia and anyone can buy a unit whenever they want. However, not all TV boxes are created the same as there are others that perform better and have better features as well. As such, it would be best for buyers to first weigh out their possible options before buying.
A great device to own is the one from TV Box Australia. The current device offered by the company is currently one of the most powerful Android TV boxes in the country. It is packed with many features, innovative technologies that can fully utilize the capabilities of the Android OS on a TV. Furthermore, this device has unlimited potential, unlike any other devices.
TV Box Australia combines all the best hardware and firmware it is the latest device. It is powered by Amlogic's latest chipset which makes the performance a benchmark in the industry. It also delivers steady connectivity that does away with the worries of lag and other internet issues.
It may look complicated on the outside, but this unit is relatively easy to use because of the remotes it comes one. Aside from the standard remote control for the device, the maker also offers a unique 2.4GHz QWERTY keyboard with an Air Mouse. It has a connection range of up to 10 meters and it is specifically designed for Android apps and devices. It makes the TV box easy to use so every person in the house can fully utilize the features of the device.
Perhaps the best part about this TV box is that it is cheap. It sells for under $150 and it comes with the special remotes. The company offers a special sale from time to time and this can give buyers up to a $50 discount on the entire package. Aside from buying this device from certain retailers, buyers can also have it delivered right at their doorstep. These are also very easy to install so people can immediately use it upon purchase.
TV boxes are innovative and useful devices and homes are going to be better with them. From its unique features to their reasonable prices, there is no doubting that there are many benefits to the this Android TV box and the devices that are worth every dollar spent on it.